We all love the feeling of having soft, glowing skin. It's one of the little luxuries in life that can make a big difference in how we feel about ourselves. But achieving that luminous glow is often easier said than done.
A quality facial can help rejuvenate your skin, leaving it fresh and youthful. Depending on your specific skin type and needs, a facial every 4–6 weeks can help maintain that beautiful glow.
This process helps keep your skin radiant, youthful, and healthy!
What Is a Medical-Grade Facial?
A medical-grade facial isn't your typical spa treatment. It's a step up, using high-quality, clinically tested products designed to improve the health and appearance of your skin. Think of it as a workout for your face, led by a skilled aesthetician who knows exactly how to "train" your skin to look its best.
A medical-grade facial typically includes several stages, each tailored to your skin's unique needs. It begins with a thorough skin analysis, where the aesthetician evaluates your skin type, texture, tone, and underlying conditions to assess your situation and determine the best way to approach it.
They'll then choose the most suitable products and treatments based on the results. A facial often involves deep cleansing to remove dirt and oil buildup, exfoliation to shed dead skin cells, and extraction to clear clogged pores.
These processes help to brighten the complexion and prepare the skin for the next step, which can be a customized treatment mask or serum. The aesthetician may also recommend additional therapies, including alternative exfoliation or more advanced treatments following a facial treatment such as:
Chemical peels
LED light therapy to target specific skin issues.
Finally, a medical-grade facial usually wraps up with a hydration and protection step. Your aesthetician will likely apply a moisturizer to nourish your skin and sunblock to protect it.
With regular treatments, these facials can help reduce signs of aging and deal with issues like acne or rosacea, leaving your skin bright, vibrant, and beautiful.
Why Should You Get a Facial?
A medical-grade facial can help you get that glowing, youthful look. But they're more than just cosmetic. They have many benefits, including:
Providing a deep cleansing that's hard to achieve at home. A professional facial can help clear pores, remove dead skin cells, and leave your skin feeling refreshingly clean.
Improving your skin health. They can also help manage issues like acne, dryness, pigmentation or dark spots, and premature aging.
Promoting relaxation and reducing stress. Facials are relaxing! They're a perfect way to pamper yourself.
These benefits mean that you get a one-of-a-kind luxurious experience that can do absolute wonders for your skin—while relaxing and pampering you!
Why Are There Limits on Facials?
A good rule of thumb is to wait 4–6 weeks between facials. This timeline aligns with your skin's natural regeneration cycle, allowing you to maintain that radiant glow while giving your skin time to relax and regenerate between treatments.
However, this timeline varies on a person-to-person basis. Your aesthetician may recommend a different schedule based on your skin and goals.
Some can affect how often you should return, including:
Your skin type: All skin reacts differently to facials.
Skin conditions: Acne, rosacea, or hyperpigmentation may require more frequent visits.
Your age: Our skin regeneration process slows down over time. Older adults may need more frequent visits.
Lifestyle: Stress levels, diet, and exposure to UV rays may affect how often you can get a facial.
Your budget: Facials can be a financial investment, so consider what you can realistically afford when deciding how often to have a facial.
And the arguably most important factor? Your overall skin care goals. Depending on what you hope to achieve—like reducing wrinkles or brightening your skin—you might need more or less frequent treatments.
Are At-Home Products the Same as Professional Skin Care?
While at-home skincare products can help maintain healthy skin, they're not quite the same as professional skincare. In-office treatments like medical-grade facials use higher-strength products and techniques that penetrate deeper into the skin.
Having a trained professional apply these treatments also helps achieve results. It's important to visit a professional aesthetician to get their recommendation—they may be able to recommend over-the-counter products that align with your goals.
Remember: your aesthetician is a trained skin care professional. Their advice can make an important difference in how your skin looks.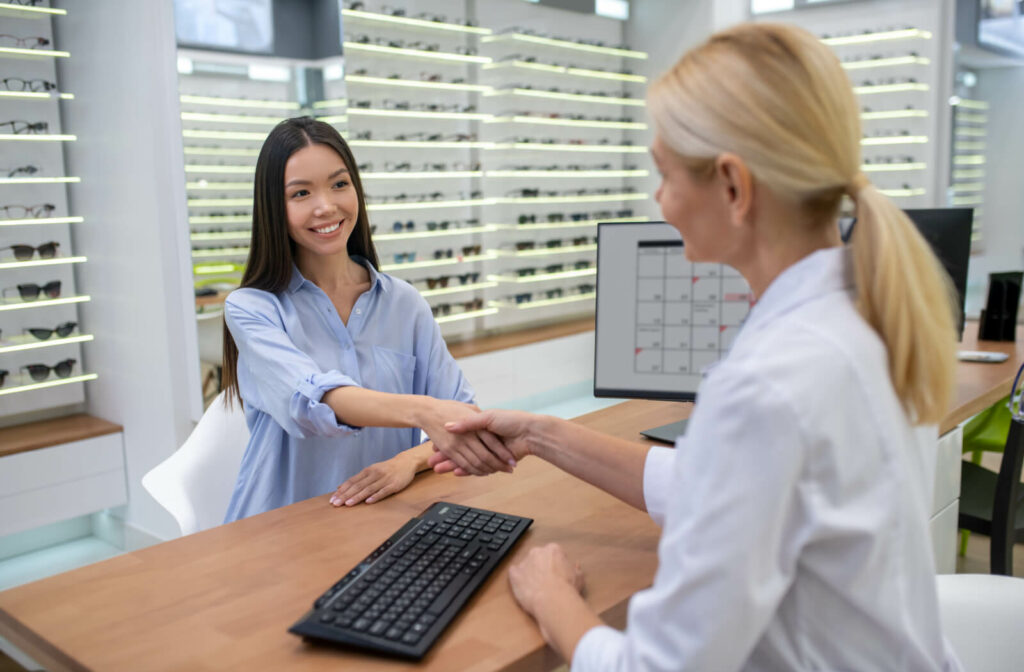 Where to Get High-End Skin Care
Our team of experienced aestheticians is here to develop a personalized skincare regimen that addresses your unique needs. So why wait? Book an appointment with us at Eye Lab to start your journey toward healthier, more radiant skin.