Throughout life, your skin goes through changes from hormone fluctuations, weight changes, and environmental conditions that can affect the look of your skin. As you smile, laugh, and move your facial muscles, you develop fine lines. TempSure Envi is a noninvasive skin treatment to tighten and minimize the lines on your face for up to 6 months after your treatment.
At Eye Lab, your eye care is about more than just your vision—the delicate skin around your eyes also plays a critical role in your eye health. Our team blends optometry and aesthetics to care for your eye health, inside and out.
Skin Tightening with TempSure Envi
Newer technology allows for the development of noninvasive methods to achieve smoother, younger-looking skin without committing to surgery. TempSure Envi is at the forefront of those advancements.
As you age, your skin's natural collagen and elastin production slows. These proteins are critical in forming your skin's structure. Add pollution exposure, stress, and the endless ways you can move your facial muscles, and your skin may begin to appear stretched or wrinkled.
Skin tightening treatments aim to stimulate natural collagen production to help revive the look of your skin.
How Does TempSure Envi Technology Work?
TempSure uses multi-modal radiofrequency waves to apply gentle heat to the skin. Traditional skin tightening treatments use monopolar radiofrequency (RF) energy which can't deeply penetrate the skin. With multi-RF technology, TempSure Envi can safely penetrate the deep tissue layers of the skin.
This heat exposure prompts your body's natural healing response, allowing your skin to produce new collagen and rejuvenate the look of your skin. Newly created collagen can reduce the appearance of fine lines and wrinkles while offering an overall tightening effect.
A TempSure Envi treatment has been compared to having a hot stone facial massage. The warm, tightening sensation is temporary and has minimal discomfort. After your treatment, you need no downtime and can return to your day immediately without missing a beat.
What Can TempSure Envi Do?
TempSure Envi treatment targets the dermis (middle layer of the skin) without damaging the epidermis (the skin's surface). The technology was designed to treat the delicate skin around the eyes, and the 10-millimeter handpiece can target even the smallest sections of your skin.
Some cosmetic concerns that TempSure Envi can address include:
Frown lines
Crow's feet
Fine lines
Wrinkles
Cellulite
Radiofrequency treatments like TempSure Envi may also be able to fight mild sun damage.
How Long Do TempSure Envi Results Last?
After only one session, you may notice results in your skin's glow and experience a lifted or tight feeling. Immediately following treatment, your skin will begin to produce dense collagen fibers that will benefit your skin.
The instant tightening is followed by gradual collagen production in the weeks and months following your treatments. You should see a youthful glow for up to 6 months following your last treatment.
How Often Do You Need TempSure Envi Treatments?
Your skin is unlike anyone else's, so the Eye Lab team will develop an individualized treatment catered to you. The frequency of your visits will depend heavily on your skin and its needs.
Your unique skin condition and goals will guide our treatments. Before we begin treatment, we'll perform a medical exam and establish whether TempSure Envi is a good fit for you.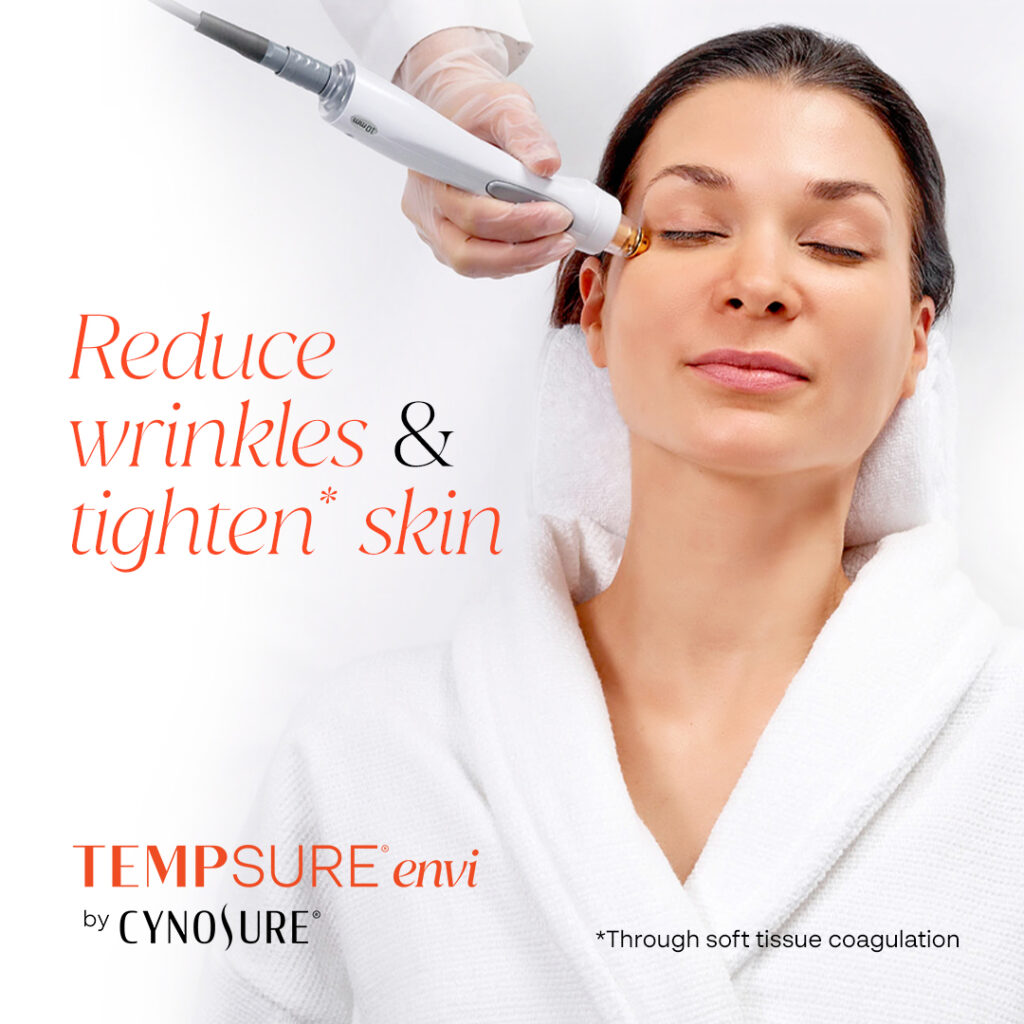 Achieve Tighter, More Youthful Skin
Leave the delicate skin around your face and eyes to your trusted eye care team. Book a consultation with the Eye Lab team to revitalize your skin with the help of TempSure Envi and discover a youthful glow.