The most common type of vision problem is a refractive error. Over 150 million Americans have a refractive error, but many are unaware that they could see better. That's why regular eye exams are so important.
An optometrist or ophthalmologist will perform a refraction test to determine if you have a refractive error in your vision that causes you to be nearsighted, farsighted, or astigmatic. These refractive errors can cause blurry vision at various distances.
Refraction tests are performed by eye doctors to determine the strength of the prescription you need for glasses or contact lenses to address your specific refractive error and allow you to see clearly.
During the examination, your doctor evaluates how light enters your eyes and where it lands in relation to your retina. This can be accomplished by shining a light into your eyes or using a phoropter tool.
Light refracts in front of your retina in nearsighted eyes, resulting in blurry distance vision.
Light refracts behind the retina in farsighted eyes, resulting in blurry up-close vision.
Light is scattered in astigmatic eyes, resulting in overall blurry vision.
What to Expect
A refraction exam is relatively simple and quick. Your eye doctor will first lower a large tool covered in dials, switches, and lenses. This is known as a phoropter, and it is most likely the tool you think of when you picture an eye exam.
The optometrist will ask you to look through the phoropter at a vision chart that is either 20 feet away or reflected in a mirror to appear 20 feet away. You might recognize this chart, which is covered in bold, black letters that are larger at the top and gradually get smaller as they move down.
The power of the lenses will then be adjusted by your doctor, who will shift or flip them back and forth until the letters on the chart look clear to you.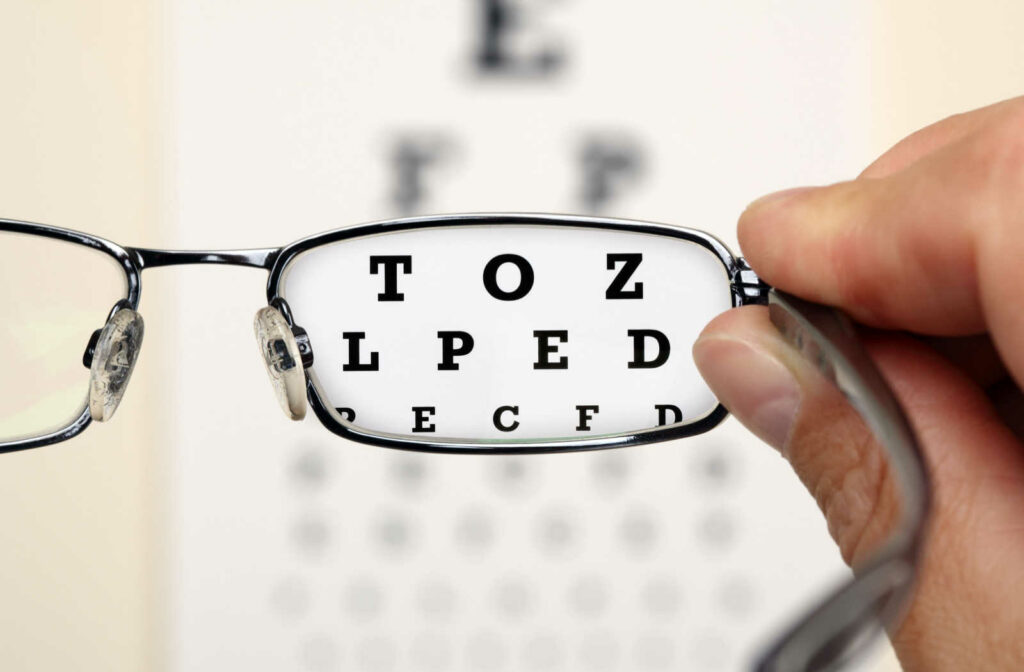 Refractive Errors
Refractive errors occur when the shape of your eye does not correctly bend light, resulting in a blurred image. Myopia (nearsightedness), hyperopia (farsightedness), and astigmatism are the three main types of refractive errors.
Refractive errors are commonly treated with:
Corrective lenses, such as eyeglasses or contact lenses
Some refractive disorders can also be corrected with refractive surgery (such as LASIK)
Nearsightedness
Nearsightedness (myopia) is a common vision condition in which you can see objects close to you but not those farther away. It happens when your eye's shape causes light rays to bend (refract) incorrectly, focusing images in front of your retina rather than on your retina.
Nearsightedness can develop gradually or suddenly, and it frequently worsens during childhood and adolescence. Nearsightedness runs in families.
Farsightedness
Farsightedness (hyperopia) is a common vision condition in which you can see distant objects but have blurry vision of nearby objects.
Your ability to focus is affected by your degree of farsightedness. People with severe farsightedness may only be able to see objects that are far away, whereas those with mild farsightedness may be able to see closer objects.
Farsightedness is usually present at birth and runs in families. This condition is easily corrected with eyeglasses or contact lenses. Surgery is another treatment option.
Astigmatism
Astigmatism is a common and usually treatable curvature of the eye that causes blurry distance and close-up vision.
Astigmatism occurs when the curves on the front surface of the eye (cornea) or the lens inside the eye are misaligned. The surface is egg-shaped rather than round. This causes vision blur at all distances.
Astigmatism is frequently present at birth and can coexist with nearsightedness or farsightedness. Often, it's not severe enough to need corrective action.
Who Should Get a Refraction Eye Exam?
A refraction test should be performed annually on healthy adults who are not experiencing vision problems. Children should also have a refraction test every year, with their first exam at the age of 6 months.
If you wear prescription glasses or contact lenses, you should have a refraction test performed every year. This will enable your doctor to determine what prescription is required as your eyes change. If you have vision problems between exams, you should see your eye doctor for another refraction test.
Book Your Eye Exam Today
Your eyes are one of your best tools. It's important to take care of them to ensure early detection of vision issues that may put extra unnecessary strain on your eyes.
Our highly trained team will examine your eyes for more than just vision. We'll get a comprehensive picture of your ocular health by performing noninvasive tests and looking for eye diseases, irregularities, and changes in your vision. Book your appointment today to make sure your eyes are functioning at their very best at Eye Lab.